Maksim Galkin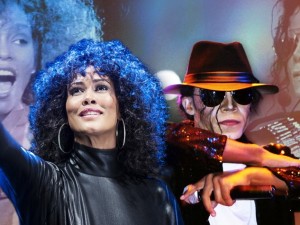 "Jackson & Houston" Show. Dantanio, Belinda Davids and the "Russian Philharmonic" Symphony Orchestra
Other
Ballet Gala Concert "Rudolf Nureyev. From the Past into the Future" in the Framework of Andris Liepa's Project "Autographs and Images"
On March 24, 2018, Russia's main stage will host the ballet gala concert "Rudolf Nureyev. From the Past into the Future" in the framework of the "Autographs and Images" project. The event is dedicated to the 80-year anniversary of late Rudolf Nureyev who was a legendary ballet dancer and choreographer.
"Rudolf Nureyev. From the Past into the Future" is the first concert of Andris Liepa's new annual project "Autographs and Images" that will introduce the distinguished artists of the XX century whose names are now engraved in the history of art.
Bold, ardent, passionate. This handsome professional was the most flamboyant XX century dancer. He made a revolutionary step in the history of male dancers. His incredible plasticity and powerful dynamics made an unforgettable impression. His striking agility combined with flexibility could cater even to the most picky audience.
Together with Margot Fonteyn, he broke the record for curtain calls which still remains in the Guinness Book of World Records. In 1964, after their "Swan Lake" at the Vienna State Opera they received more than 80 curtain calls!
Tickets to his performances were always sold out immediately. His admirers would put up tents at opera houses and wait for several days to get the long-desired ticket.
He trained Sylvie Guillem, Charles Jude, Isabelle Guérin, Manuel Legris and Lauren Hilaire, patnered Margot Fonteyn, Martha Graham, Yvette Chauviré and Carla Fracci. He became a legend during his lifetime and was equally brilliant at both classic and contemporary ballet.
World's best ballet dancers will come to the State Kremlin Palace to pay tribute to genius Rudolf Nureyev. One of the most distinguished male guests will be Semyon Chudin (Bolshoi Theater), Vadim Muntagirov (Royal Opera House), Denis Rodkin (Bolshoi Theater), Vladimir Shklyarov (Mariinsky Theater), Jacopo Tissi (Bolshoi Theater), Bakhtiyar Adamzhan (Astana Opera) and their resplendent partners. They will show Nureyev's best-known dances.
Other honorable guests of the concert are going to be Nureyev's friends and students:
Charles Jude – legendary French choreographer, Rudolf's close friend, artistic director of Bordeaux National Opera Ballet, Paris Opera Ballet star;
Isabelle Guerin – famous French ballerina who Nureyev called "etoile" (star). She was often invited to dance with New York City ballet troupe.
Manuel Legris – one of the world's best ballet dancers, Vienna State Ballet director. He has been invited to Royal Opera House, Cuban National Ballet, Les Ballets de Monte Carlo, Stuttgart Ballet and Hamburg Ballet where John Neumeier created "Spring and Fall" and "Cinderella Story" specially for Legris. He tours the world with this troupe "Manuel Legris et ses etoiles" founded in 1996 together with Monique Loudieres,
At the show you will see unique pictures from the Nureyev's life. The State Kremlin Palace's foyer will become the venue for the unique exposition dedicated to this brilliant dancer.